Picnic in the park. Spread out a blanket, sip a refreshing drink, bring or rent a basket filled with goodies and enjoy the beautiful parks of the Netherlands.
Discover the Netherlands' most beautiful city parks.
Relax and escape the hustle and bustle of the city.
Rent a picnic basket in Amsterdam's most famous park.
The Netherlands has a lot of parks. Just about every big city has a large park that fills up with people enjoying picnics or barbecues on weekends and sultry summer evenings. Summer is the key word here – picnicking is especially popular during the sunny season, especially since many Dutch parks host a variety of festivals.

Depending on the type of park and the city and municipality in which it's located, your checkered blanket banquet may be subject to a few rules and laws. These can usually be found on the municipality's website and they tend not to be all that strict – but, for example, if you want to fire up a grill alongside your picnic it's best to have a look at the regulations.

Cities like Amsterdam and Utrecht have special web pages on the subject. Though if you're just having a beer and behaving yourself, nobody's going to give you any problems. Just please pick up your litter when you leave.
Simply put, you can enjoy an al fresco feast pretty much everywhere in the Netherlands. In this article, we've listed a few original spots in the most popular cities. Bon appétit!
Amsterdam: a picnic in the most famous park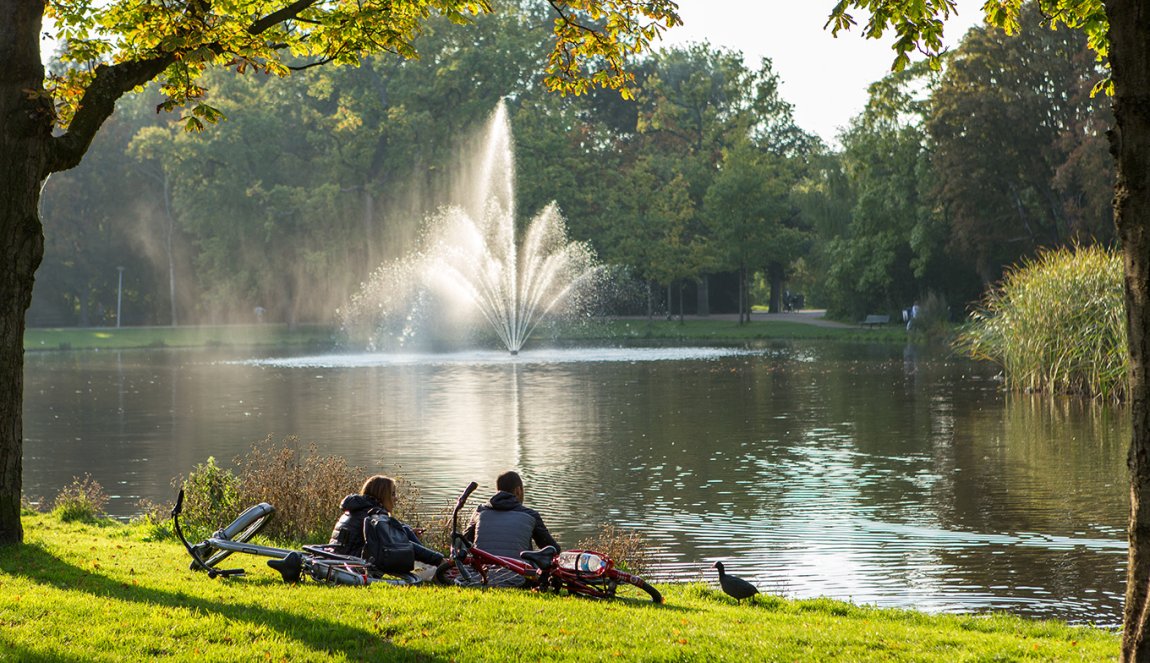 The most famous picnicking park in the country, by far, is Amsterdam's Vondelpark. Located in the very heart of the Dutch capital, this wonderfully green park is all about fun, friends and relaxation. There are several cafes and restaurants with outdoor terraces, and you can even rent a fully stocked picnic basket from various establishments – like Tozi Amsterdam, which offers a very special cicchetti picnic.

One of the biggest city parks in the Netherlands lies just outside Amsterdam's city center: the Amsterdamse Bos (Amsterdam Forest). Technically, the Amsterdamse Bos lies in Amstelveen, but that's neither here nor there. All that matters is that it's a great place for walking, climbing, cycling, tennis, canoeing (!) or just relaxing.

On warm days, the Sloterpark's Sloterplas can be a real godsend. The Sloterplas is a big lake, fronted by a splendid urban beach. You can cool off in the water and then pop open the picnic basket. What's not to love?

Finally, foodies will absolutely want to check out Sarphatipark, just a stone's throw from Albert Cuypmarkt.
Utrecht: stop for a snack along Singel canal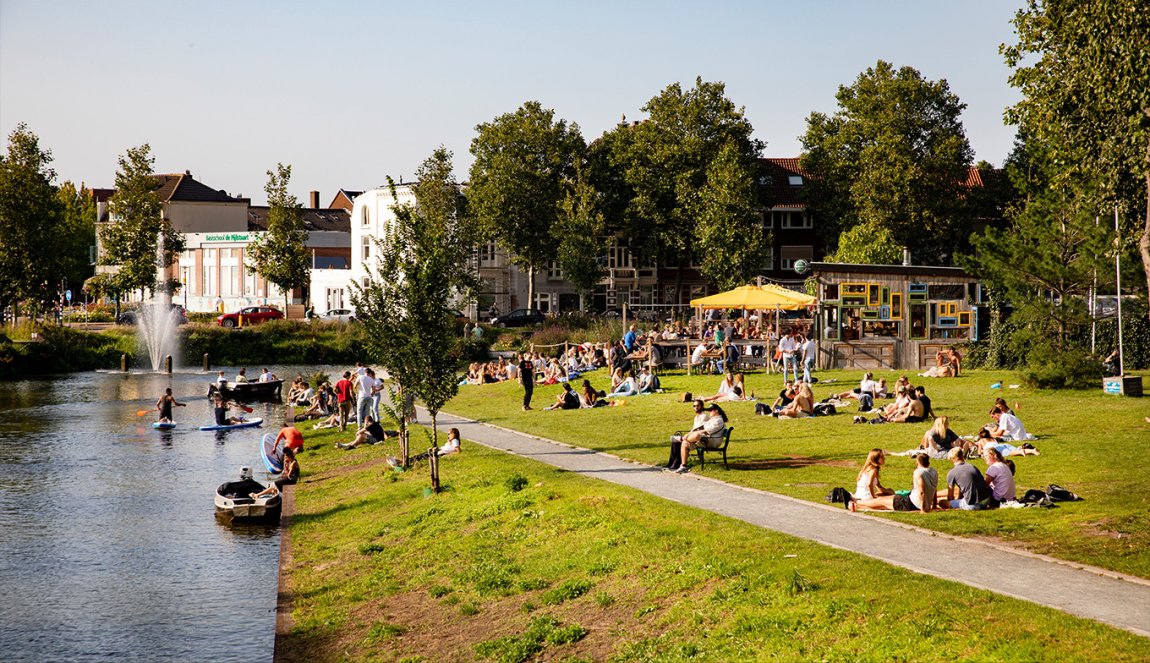 Utrecht also has great places for picnicking. To start with, the city has many parks and almost all of them boast large grassy fields where you can pick your spot and spread out your blanket.

Wilhelminapark is the largest of these parks and the most frequented destination for picnicking parkgoers. Also very popular, especially among children, are Julianapark and Oog in Al park Both of these parks feature a large playground and animal enclosure.

On the other hand, if you're in the mood for a picnic but don't really feel like going to the park, you could always have lunch along Oudegracht canal. Just head down the stairs and stroll past Utrecht's many wharf cellars until you find a nice, empty spot. Just make sure you're not blocking someone's front door! The more adventurous among us may also pack their snacks into a backpack and set off on a canoe exploration of Utrecht's canals.
Eindhoven: relax near a historic water mill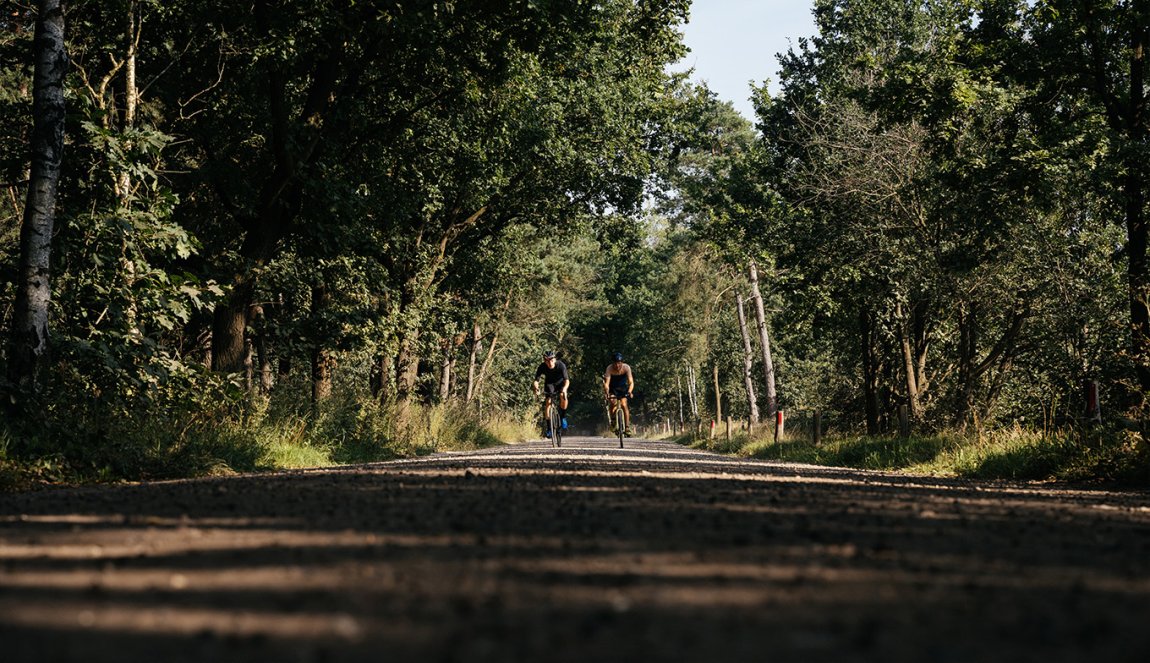 It's barely a 15-minute bike ride from Eindhoven to Genneper Park, a large nature reserve that makes for great cycling, walking and jogging. It's a beautiful area, full of trees and other flora and fauna. Those who come armed with a basket and blanket can pretty much pick their spot, but the ideal place to kick back and relax is near the Genneper Watermolen, or the Gennep Water Mill. Fun fact: this historic water mill featured several times in paintings by none other than Vincent van Gogh.

Other great places for a picnic in the City of Light include the Stadswandelpark or Karpendonkse Plas (Karpendonk Lake).
Rotterdam: admire the iconic Erasmus Bridge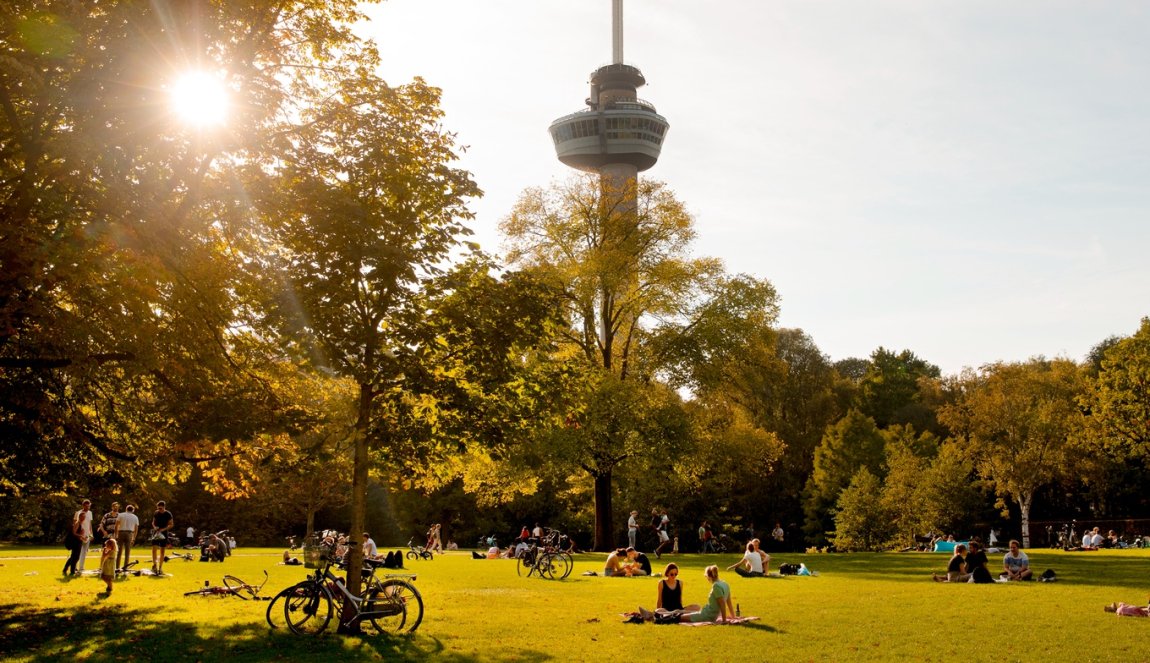 The best place to picnic in Rotterdam is Euromastpark, where you can go for a nice stroll along the Meuse river before availing yourself of one of the park's various designated barbecue spots. Highlights include the Veerhaven harbor, a great boat watching spot, and the view of the instantly recognizable Erasmus Bridge. A bit of inside info: Euromastpark is often referred to as simply "The Park". Just so you know.Other top spots in Rotterdam for an outdoor snack and refreshing drink include Paul Nijghkade, where you will find a small park behind the Foodhallen that offers a pleasant view over the Meuse river. Vroesenpark in Blijdorp is also very popular, especially among students, and it tends to be a bit more crowded than other parks.
Finally, De Esch makes for excellent picnicking as well. You'll find this nature area near De Oude Plantage, a small urban park. No need to bring coffee, because De Maaskantine serves an outstanding cup of cappuccino.
Picnicking in The Hague: where all good things come together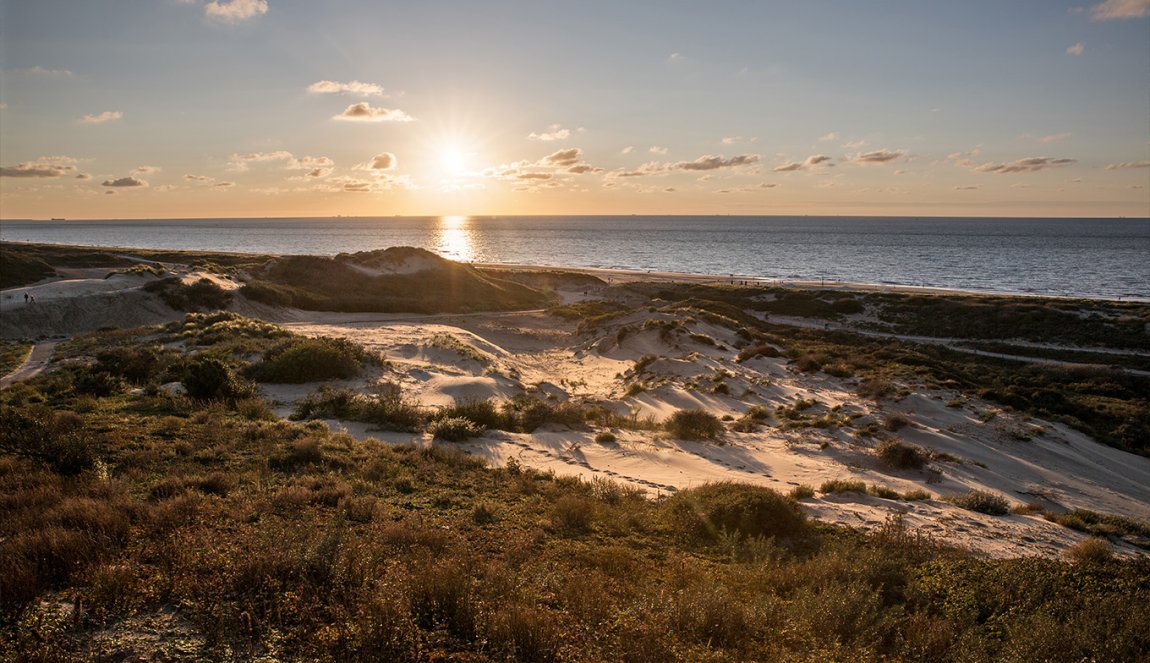 In Westduinpark, every dune and tree hides an even better picnic spot than the last. Whether you're looking to enjoy an al fresco meal in dense forest surroundings, share a glass of wine atop golden dunes with a view of the sea, or prefer to soak up the laidback atmosphere at one of the beach pavilions, all the best parts of The Hague come together in this park.

Looking for a park where you can get a bit of physical exercise in as well? Westbroekpark is a surprisingly peaceful family park. You can stroll through its beautiful flower garden or rent a boat for a paddle-powered excursion or a picnic on the waves.

Just because a park is located close to a city's center does not mean that it is always swarming with people. Case in point: the Haagse Bos, or Hague Forest. Just a few minutes' walk from The Hague Central Station, this park is a surprising green oasis of calm, where paths meander merrily to and from and a spot by the waterside is never hard to find. After your delicious picnic, visit Huis ten Bosch Palace to explore a unique collection of art objects and spectacular gardens.
Arnhem: a place with a view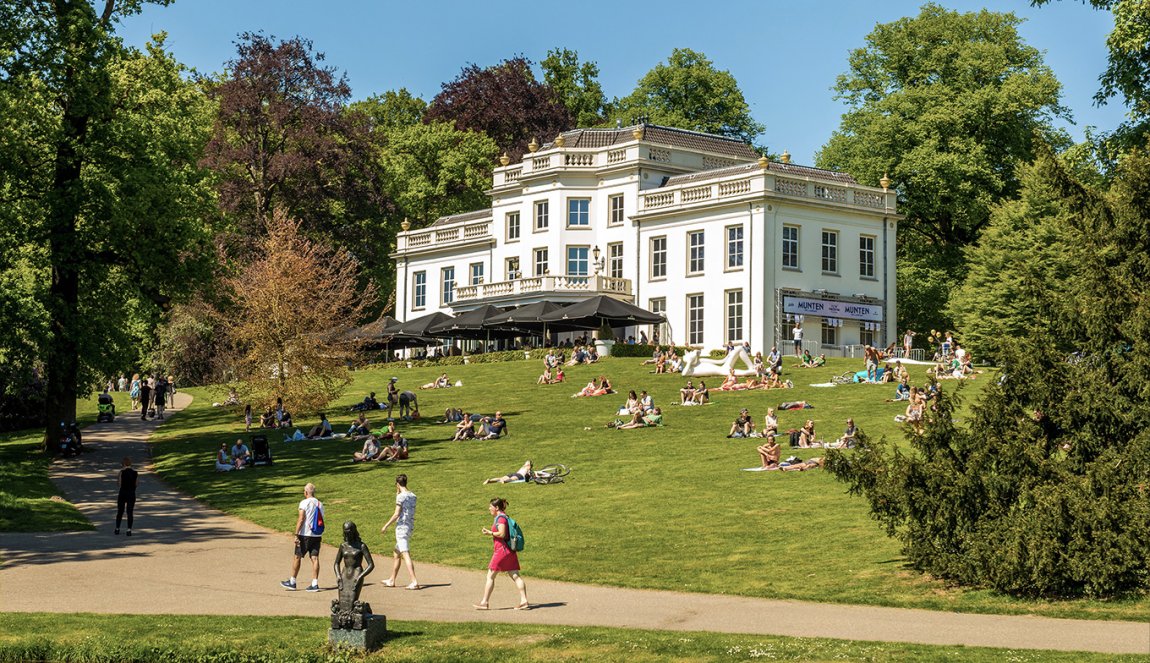 Finally, ask any Arnhem local about their favorite picnic spot and they will tell you that it's Park Sonsbeek. Located on a hill at the edge of Arnhem, this park offers a splendid view of the Burgemeesterswijk quarter and the city center and hosts a large variety of festivals. The park's star feature is Stadsvilla Sonsbeek. It's a great place to enjoy a delicious lunch, and you can even get married there (though you might want to reserve in advance if you're planning a wedding)!

Bicycle owners are strongly advised to treat themselves to a trip to the nearby Veluwe nature reserve. There are amazing picnic spots galore, especially on the heathlands. Truly a unique region.