Will you be visiting Holland in spring? Then be sure to visit Keukenhof, where you will experience the gorgeous views of blooming Dutch tulips and other flowers for which Holland is famous. Keukenhof is the most famous and largest flower park in the world and lies not far from Amsterdam.
Visit the most beautiful spring park in the world.
Admire more than 7 million flowers in bloom at Keukenhof.
Keukenhof can be reached within half an hour from The Hague, Haarlem, Leiden and Amsterdam.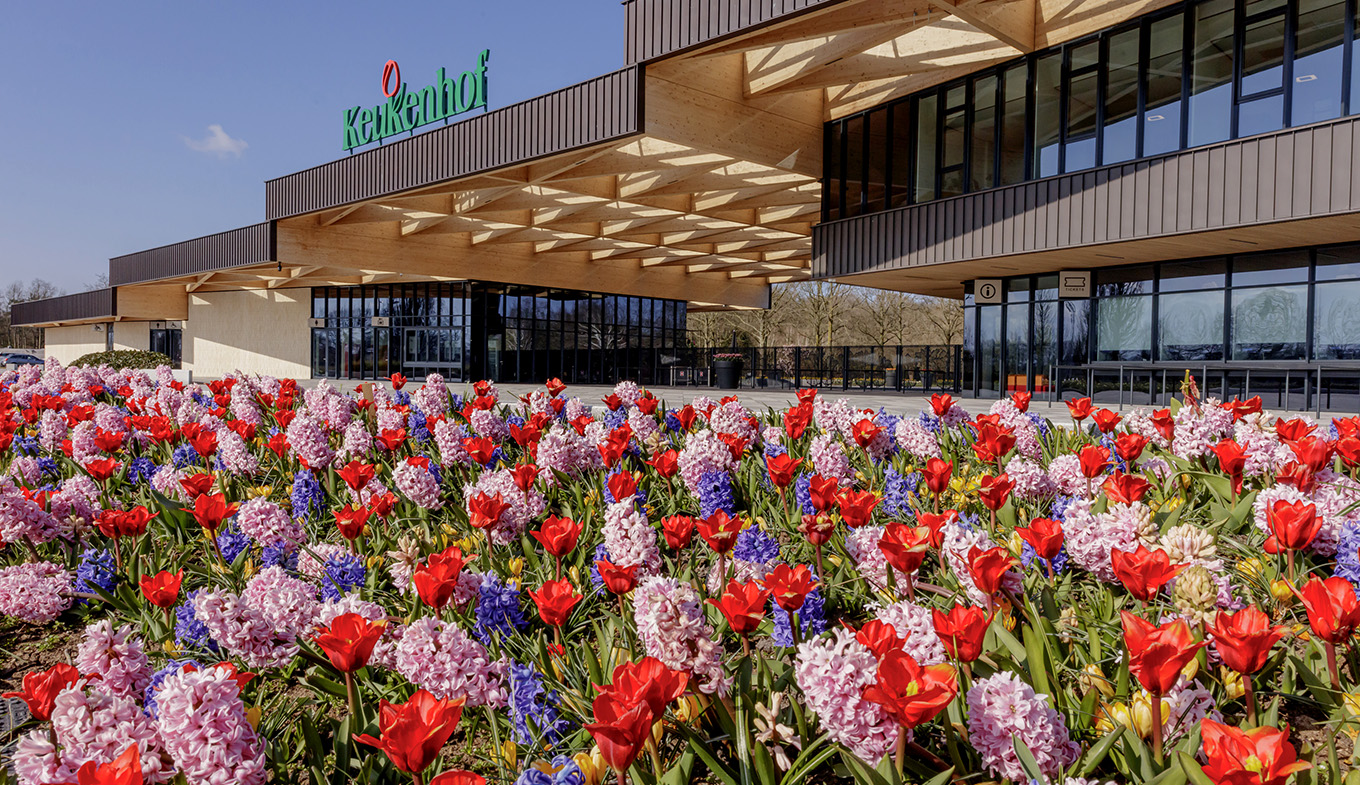 7 million flower bulbs
Tulips from Holland are world famous. If you want to see the Dutch tulip fields in bloom, you should visit Holland in April and May. This is the same period in which the biggest flower park in the world, Keukenhof, opens its doors.
Keukenhof is a park where more than 7 million flower bulbs are planted every year. Gardens and four pavilions show a fantastic collection of: tulips, hyacinths, daffodils, orchids, roses, carnations, irises, lilies and many other flowers. You will be overwhelmed by a spectacle of colors and perfumes.
Address and opening hours
Keukenhof lies in Lisse, between Amsterdam and The Hague, in the heart of the Bollenstreek (Bulb Region), and is easy to reach via the A4 (exit Nieuw-Vennep) and the A44 (exit 3 Lisse). Follow the 'Keukenhof' signs.
Keukenhof is also well accessible by public transport. Check out our combination tickets (transport and entrance) that allow you to get on in Amsterdam or Rotterdam/The Hague and off at Keukenhof. You will be able to enter through the quick desk, so you won't have to wait in line.

From 20 March to 9 May 2021, the park is open every day from 08:00 to 19:30. The cash register closes at 18:00.
Tulips everywhere
At Keukenhof, you'd think you were adrift on a sea of flowers. Divided across various gardens and pavilions, the tulips and other flowers number in the millions. Keukenhof has a different theme each year, meaning that it is never the same. Unique in the world, this park attracts over a million visitors every year. Note that the tulips bloom only from mid-March to mid-May, meaning that the park is only open during this period.
© Alberto Benini

© Mario Gogh
Editor's tips
If you want to have a really flowery day out, you should combine a visit to the Keukenhof with the Flower Parade in April.
Experience the flower bulb fields from above! During the flower season, the Royal DC-3 Dakota 'Prinses Amalia' departs from Schiphol-Oost for a 30 minute tour of the flowering fields every Saturday and Sunday. From this historic airplane, which once served as the first official government aircraft in Holland, the view at a height of about 300 meters is fantastic. You must book your tickets for these flights in advance.
Frequently Asked Questions