© Iris van den Broek via NBTC Mediabank
Category:

BIT article
Deventer
© Iris van den Broek via NBTC Mediabank

© Iris van den Broek via NBTC Mediabank

© Iris van den Broek via NBTC Mediabank

© Iris van den Broek via NBTC Mediabank

© Iris van den Broek via NBTC Mediabank

© Iris van den Broek via NBTC Mediabank
What can you do in Deventer?
If you wish to taste the atmosphere of this centuries-old Hanseatic city, the best thing you can do is take a walk. Walk past the many monuments, squares, churches, museums, and more – there is more than enough to discover. For instance, as well as boasting the oldest stone house in Holland, Deventer is also home to Holland's oldest library, the Atheneumbibliotheek, and Holland's oldest park, the Worpplantsoen.
Two further exceptional buildings in Deventer are the city hall and the beautiful Gothic St. Lebuinus Church, both to be found on the Grote Kerkhof (Great Church Square). And if you like museums, both Museum De Waag and the Speelgoedmuseum (Toy Museum) are well worth a visit. Nature lovers, meanwhile, will find a walk along the riverside positively enchanting.
Should you feel like relaxing by shopping for a bit after immersing yourself in its culture and history, Deventer offers plenty of shopping opportunities to suit any taste and budget. The best shopping streets are the Lange Bisschopstraat, the Korte Bisschopstraat, the Smedenstraat and the Engestraat.
Events in Deventer
In July, the center of Deventer is transformed into a huge theater for a weekend during the outdoor theater festival 'Deventer Op Stelten'. Visit one of over 150 national and international top shows in the historic inner city. On the first Sunday in August, Deventer hosts Europe's biggest book market: the Deventer Boekenmarkt or Book Market. Some 900 stalls overflowing with books, magazines and postcards spread across 6 kilometers of roads.
In December, characters from the works of Charles Dickens come to life during the Dickens Festival.
Watch this video: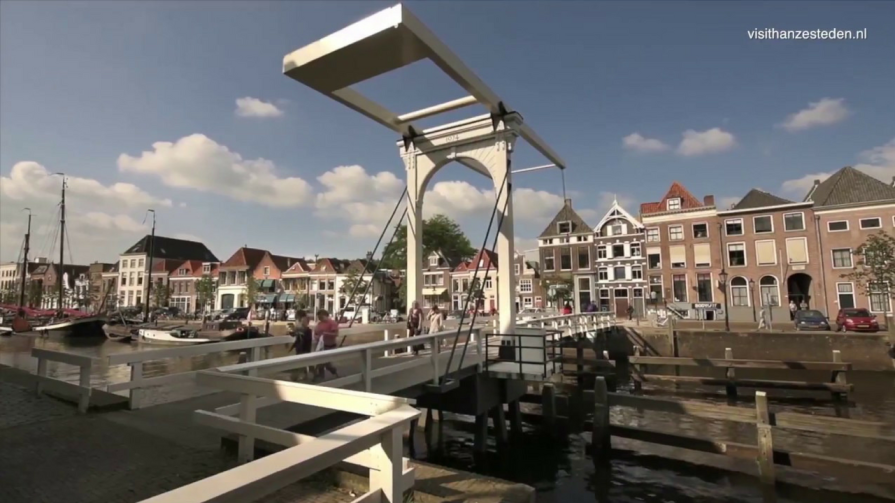 Where to eat in Deventer?
In Deventer's beautiful centre, finding a nice restaurant takes barely any time at all. To help you choose, we've listed the best 3:
1.'t Arsenaal An excellent restaurant serving French Mediterranean courses made with fresh local produce. This restaurant has been a Bib-Gourmand for years, and with good reason. Address: Nieuwe Markt 33-34
2. Da Mario Delicious Italian classics, freshly prepared and served with excellent wines. Their tiramisu is a rare delight! Address: Vleeshouwerstraat 4-6, Deventer
3. St Tropez A special restaurant, whose unorthodox furnishings and wonderful terrace alone make it worth a look. Good menu with an overall French twist. Address: Brink 28
Editor's tip: Visit the Deventer Koekwinkel, which has been producing the world-famous kruidkoek for over 400 years. Jb. Bussink is the only baker producing the true Deventer koek today, according to an ancient, secret recipe.
Want to see more of those beautiful Hanseatic cities? Check out
Visit Hanzesteden
and discover the other activities!
Frequently Asked Questions