Saint Peter's Fortress was built on St. Peter's Mount in the early 18th century. It's initial purpose was military, allowing the people of Maastricht to defend the city from the French. While successful for a long time, the city had to surrender in the end. Today you can take a guided tour of the fortress and enjoy a drink or meal at the restaurant.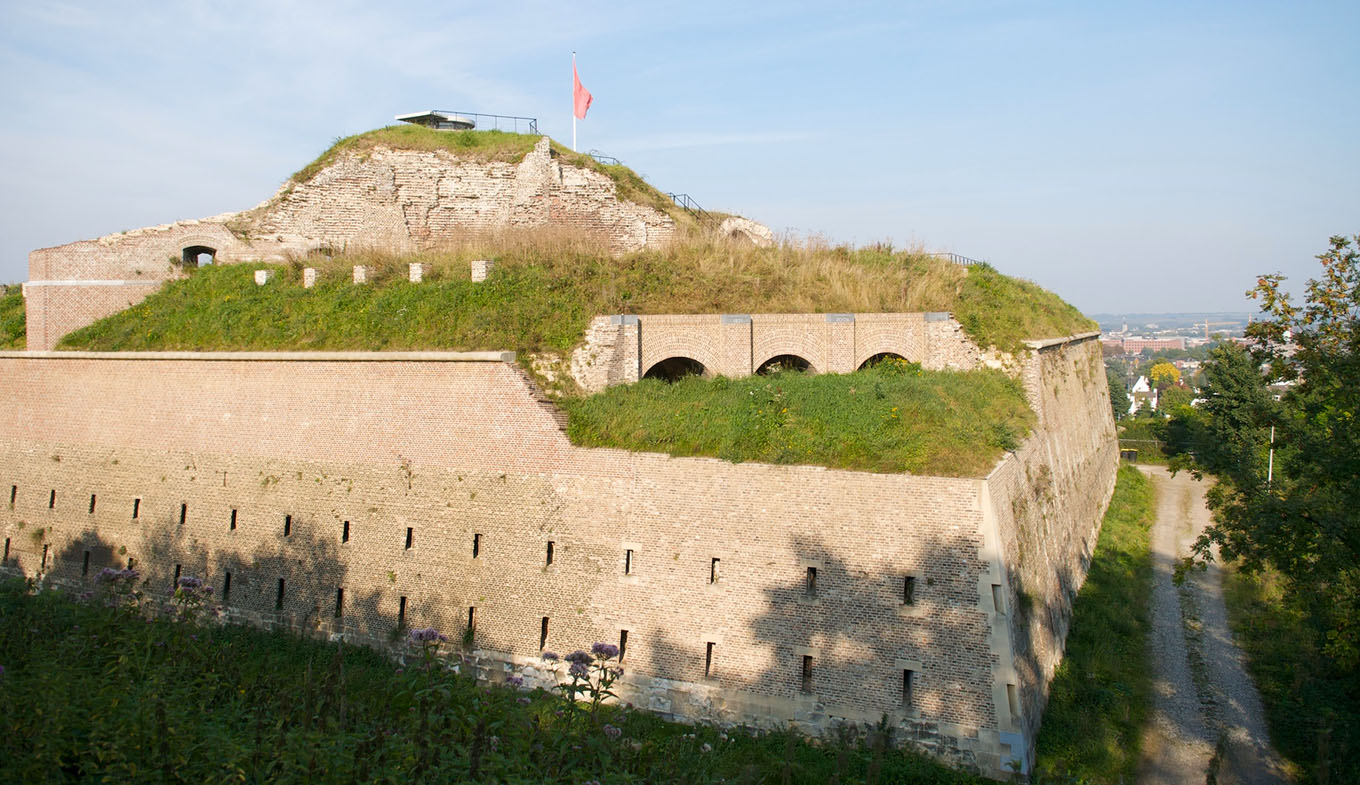 Visit the 300 year old fortress built to keep the French out.
Enjoy the beautiful view of Maastricht and the natural landscapes around the fortress.
Raise a glass with other hikers at the end of Saint Peter's Path.
Guided tour
The fortress is accessible exclusively on a guided tour. The guide will show you the cannon gallery, embrasures, secret water well, and underground tunnels, as well as the breathtaking view. The tour takes about an hour and fifteen minutes. Unfortunately the fortress is not accessible to wheelchairs.
Nature reserve
The fortress' immediate surroundings are managed by Natuurmonumenten and are a protected nature reserve. The organization works to restore the fortress but leaves some spots in ruins on purpose, making it a safe haven for plants and animals who have found a home here.
End of Saint Peter's Path
Saint Peter's Fortress marks the end of Saint Peter's Path, the most famous long distance hiking route that starts at Pieterburen in Groningen. The route is nearly 500 km long, running through the eastern provinces to Maastricht and ending at the fortress. There can be no more beautiful location to complete such a hike. On the terrace, you can enjoy a drink and the fantastic view.
Editor's tip: Saint Peter's Path has 26 stages. Of course you can walk just the last stage or part of the path to enjoy a cup of good coffee on the terrace.
Nearby
Saint Peter's Caves lie beneath the fortress. Did you know the enemy once tried to blow up the fortress from the caves? The resulting damage is still visible. You can go on beautiful walks in the surrounding area.
Spend the night
The Jeker District not far from Saint Peter's Mountain boasts several great hotels. Beluga Mansion, for instance, a chic hotel built in collaboration with the famous restaurant Beluga Loves You **.