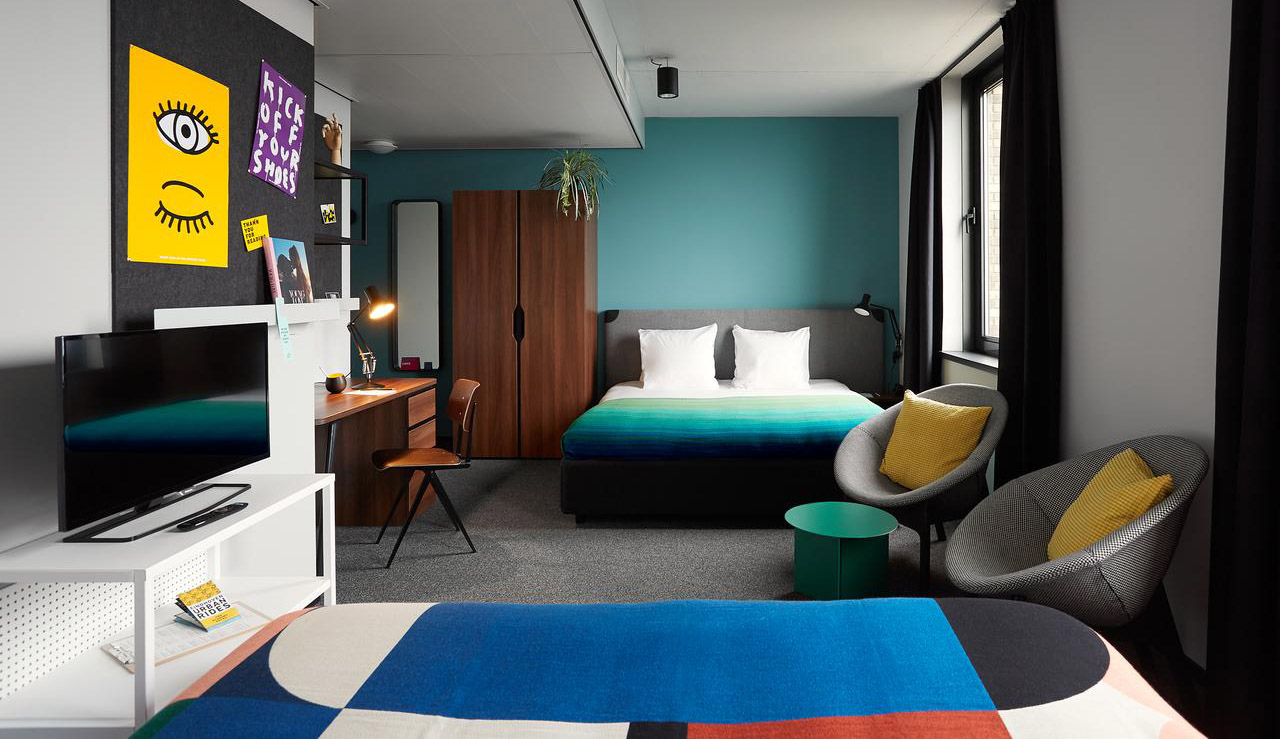 © Student Hotel Eindhoven
The Student Hotel Eindhoven
The Student Hotel Eindhoven has a youthful vibrancy stemming from its colourful décor, bold design elements, and the guests themselves: a mixture of students, international visitors and short-stay guests. It's a unique twist on an affordable 4-star hotel that doesn't skimp on high-end design, and significant discounts are available to students or those staying longer than two weeks. It's also ideally located directly across the street from Eindhoven train station and just 200 metres from the city's main music venue, De Effenaar.
Blue Collar Hotel
Enjoying a unique position in the clock tower building of the former Philips factory, the Blue Collar Hotel is a fascinating piece of history. Its location in the fashionable Strijp-S neighbourhood is perfectly situated for exploring the nearby art galleries and design stores. A rock 'n' roll theme means that you'll find bourbon barrels, cowboy portraits and authentic industrial features such as light fixtures and hardware from its factory days scattered around the hotel, which also sometimes hosts live music performances.
Inntel Hotels Art Eindhoven
This luxury 4-star hotel is housed in the former Philips Light Tower, where the world's first light bulbs were developed. More than a century later, the centrally-located Inntel Hotels Art Eindhoven blends its industrial past with elegant design, gourmet cuisine and a luxury spa, sauna and wellness centre. Among the various styles of rooms, the lofts are particularly unique with 4-metre high ceilings, accents of exposed concrete which pay tribute to its factory past and stylish Italian-designed bathrooms.
At Yetty's Place Vintage Apartment Hotel
A stay at Yetty's Place Vintage Apartment Hotel is like travelling back in time. With vintage treasures around every corner, guests feel right at home amongst the eclectic 70s wallpaper, retro light fixtures, lamps and artwork. The hotel even has its own vintage store for guests who want to take a piece of history away with them. Comforting home-style meals inspired by the flavours of Europe, Britain and Africa are served in the onsite restaurant.
B&B De Eindhovennaar
B&B De Eindhovennaar strives to make its guests feel just like an Eindhoven local (or 'Eindhovennaar'). Every detail brings a high level of comfort and character to the apartments, so it's not difficult to imagine calling one home. The apartments are decorated with eye-catching design elements, bold colour and offer modern bathrooms and fully-equipped kitchens. Guests can sit out on the sunny terrace and look over the city centre, and even play tennis or a game of billiards within the apartment complex.
Gasterij Landschot
Immersed in the beautiful Brabant countryside, Gasterij Landschot offers luxury escapes in a restored farmhouse. This former cattle farm provides a tranquil and serene setting; the perfect escape from city life. Every detail is designed for relaxation, from the Egyptian cotton bed linen to the rain showers and fluffy bathrobes and slippers. Breakfast includes freshly-baked bread and local produce, and guests can unwind in the outdoor pool (weather permitting) or the adjoining Natuurspa Landschot, where indulgent spa treatments will only add to the feeling that you never want to return home.
Hotel de Match
Floor-to-ceiling graffiti art, neon signs and industrial design make this hotel one of the best bases for exploring Eindhoven's cultural scene. Hotel de Match is centrally located amongst a hive of design stores, bars and cafés, and a smartphone device in every room offers tips for things to see and do, including advice on 170 local restaurants. Anyone looking for a midnight snack can visit the 24-hour Match Market for a selection of treats. A fun, playful attitude permeates the budget-friendly hotel, which provides everything you need for a truly unforgettable city break.