© Denis Belitsky via Shutterstock
Holland, with its long North Sea coast, has a typically moderate marine climate. The sea's influence ensures that we are not too cold during winter, not too hot during summer, and there is always sufficient moisture in the air for a shower.
Let's talk about the Dutch weather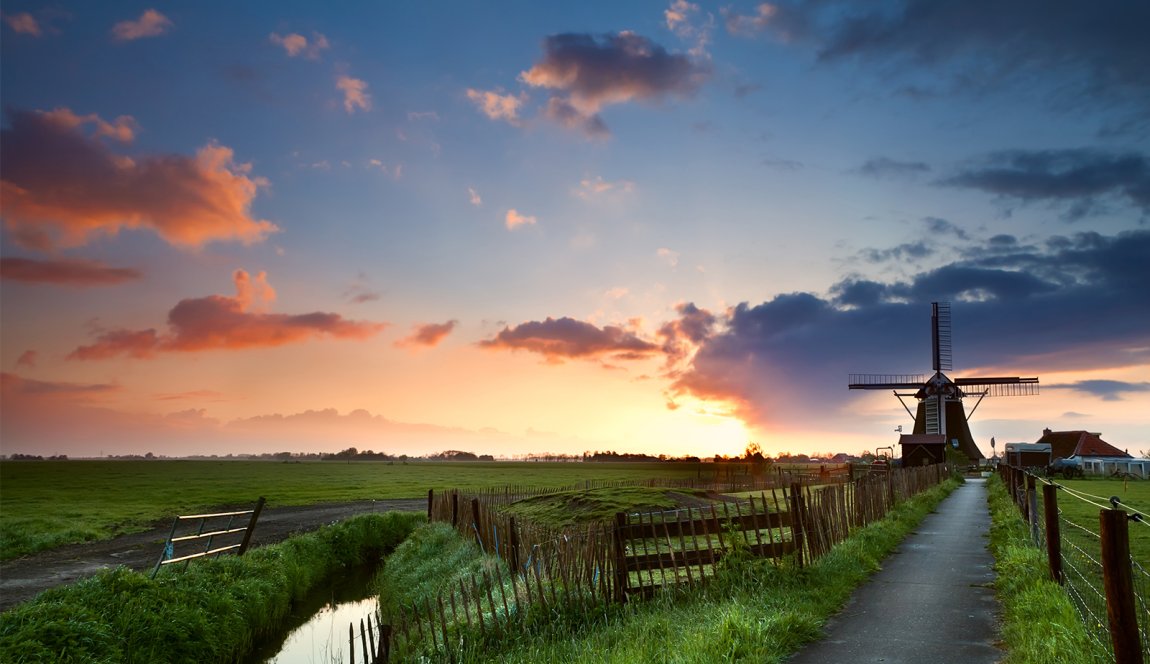 The Netherlands might not be known for its beautiful weather, but it certainly has a beautiful sky.
The Netherlands may be a small country; however, each province has its own weather conditions. The weather in coastal provinces is more moderate whereas inland more extreme weather is to be expected. The biggest chance of enjoying sunshine is along the coast particularly in Zeeland and upper North Holland and on the Wadden Islands.
What's the weather today?
While it doesn't rain quite as often as is sometimes thought, the unpredictability can mess up your plans. In day-to-day weather reports, this is often described as 'sunny intervals' or 'changeable'. Check sites like Buienradar or KNMI for up-to-date weather reports.
Dutch summers are capricious and sadly equally unpredictable. A few extremely rainy weeks can be followed by a heat wave… The best tip is to avoid letting the weather or weather report determine your holiday fun in the Netherlands!
Seawater temperature
There are Dutch people (lots of them) who dive into the North Sea on 1 January. In winter, the temperature of the North Sea's water is about 5 degrees Celsius (41° F). Is that a bit chilly for you? During summer, the seawater reaches a temperature of about 20 degrees Celsius (68° F). Fairly shallow recreational lakes will warm up another few degrees in a good summer.
Swimming in natural water: Beware of cyanobacteria
The Netherlands boasts plenty of lakes, ponds and canals where you can sail, swim, play and enjoy water sports. When the weather heats up, and especially in still water, cyanobacteria may increase rapidly in natural water (salt, brackish or fresh). Some cyanobacteria are toxic so it is unwise to go swimming when they are detected in water. Cyanobacteria can cause skin irritations and stomach and intestinal trouble, among other things. Zwemwater.nl is a website that shows the water quality of swimming water locations. Also pay attention to any warning signs posted near the water. Tip: Do not drink natural water and don't swim in water that smells bad.
Average temperature in Holland
The four seasons in Holland